Time to clean up your YouTube account

Please delete old videos from YouTube

No ID needed for Grade 8 Video exams

Changes to ID requirements for Video Repertoire exams

Details make the difference

Improve your attention to detail with current syllabus details and exam Read more...

Video Repertoire exams a guaranteed exam option in 2022

Music Video Exam requirements
The requirements of a Video Repertoire Exam are the same as the requirements for a face-to-face Repertoire exam, as published in the 2022 AMEB Manual of Music Syllabuses. Please refer to maximum performance times. Please note that Video Repertoire exams will be available for all practical music subjects.
For P Plate Piano Video exams (P Plate 1, P Plate 2, P Plate 3) - Candidates must prepare three works.
For Level 1 Video Repertoire Exams (Preliminary to Grade 4) - Candidates must prepare four works: one List A, one List B, one List C + 1 Own Choice work of similar standard.
For Level 2 Video Repertoire Exams (Grades 5 to 8) - Candidates must prepare five works: 3 List works (see syllabus requirements) + 2 Own Choice works of similar standard.
For Leisure Video Repertoire Exams (Preliminary to Grade 8) - Candidates must prepare 4 works: A minimum of 2 List works + up to 2 additional works. Additional works can be own choice items of similar standard.
Comparison table of number of pieces required: Comprehensive vs Repertoire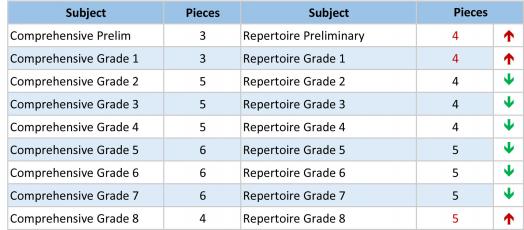 Comparison table of number of pieces required: For Leisure vs For Leisure Repertoire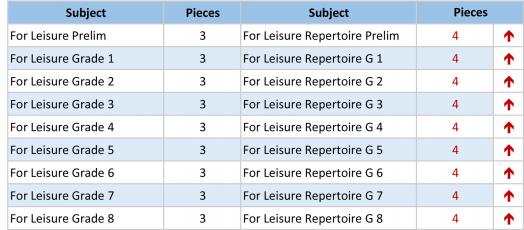 Speech and Drama Video Exam requirements
Speech and Drama candidates may present for an individual Drama and Communication exam.
For Drama & Communication Video Exams (Introductory to Grade 6)
Candidates can adapt programs they might currently be preparing for Speech and Performance or Voice and Communication or they could develop an entirely new program. The Foreword of the Drama and Communication syllabus provides encouraging information that, with a creative approach, makes this a worthwhile opportunity. Teachers, taking into account the age and experience of their students, will decide the most appropriate Drama and Communication Grade to undertake.
Candidates will present their linked program in an uninterrupted video performance. Talks with visual support/props, costumes, music ….suggestions for preparation are provided for each grade.
Please note that only Option 3 of the Individual exam will be possible. The Discussion section, and the Improvisation section for Grades 5 and 6, will not be included in the Video exam.
Please refer to the 2022 Manual of Speech & Drama Syllabuses for details of examination requirements, including maximum video times.
Contact AMEB (NSW) Chief Examiner, Vicki Clancy, via the AMEB (NSW) office for more details – office@ameb.nsw.edu.au

FAQ's
When should I be recording my Video Repertoire Exam recording?
The Video Repertoire Exam recording must be recorded no earlier than three (3) weeks prior to enrolment and no later than three (3) weeks after enrolment.
Does the Video Repertoire Exam performance require an accompanist?
If the work is written with accompaniment it must be performed with accompaniment which may be provided by an associate artist or a recording.

Does the candidate need to prepare Technical Work?
No. There are no Technical Work requirements for Repertoire exams.

What is the cost for a Video Repertoire Exam?
The cost is the same as the equivalent 'in-person' exam. Refer to the exam fees and codes page.

Will the candidate receive a certificate?
Yes. Once the assessment has been made, the report and result will be available on AMEB Connect and the appropriate certificate will be mailed to each successful candidate. The turnaround time will vary from two to four weeks, depending on the volume of examinations.

What if the video recording is not of good quality?
It is the enroller's responsibility to ensure that the video is of examinable quality – sound and vision. If an examiner finds that the recording is not of examinable quality, the exam will be marked 'Unable to Assess'.

Is a Repertoire exam easier to pass than the Comprehensive exam?
This alternate format does not imply a way to cut corners in a student's musical advancement. Sound musical technique and understanding is not directly examined in a Repertoire exam, but it still must be inherent in the performance of the student's program of works. Examiners will still ensure comments and grades are provided according to the syllabus requirements and grading descriptors in the AMEB Manual of Syllabuses. Aspects of technique or musicality found lacking will be commented upon and reflected in the grade awarded.
As the Comprehensive and the Repertoire exams are comparable in rigour, from 2021 candidates may continue along their exam pathway with a mixture of these exam formats, or switch from one format to the other as they progress through the grades.

Will Repertoire exam results count as an Adjustment Factor in University bonus point schemes?
UNSW has confirmed that they will recognise AMEB Grade 8 Repertoire as equivalent to AMEB Grade 8 Comprehensive results in their EAPL scheme from 2020 onward. Please contact the relevant university directly for more information

What are the advantages of a Repertoire exam?
Video Repertoire exams are the only guaranteed exam option for grade candidates this year (with the exception of Grade 8 and Certificate of Performance).
This format also offers greater enrolment flexibility. Candidates can enrol for a Video exam outside of their postcode period and submit their Video exam within 3 weeks of enrolling.
Candidates can record their exam performance at any time or venue that is convenient for them.

Enquiries
A member of AMEB (NSW)'s administrative team would be pleased to answer any questions concerning Video Repertoire Exams and may be contacted by completing the Video Exams Enquiry Form.
NEXT: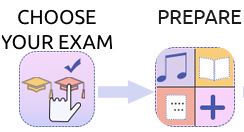 > Requirements
> Exam preparation
> Enrolment process
> Recording your video
> Uploading & submitting your video
> Exam viewing and results
> Enquiries
> FAQs
> Music Video exam submission form
> Drama and Communication Video exam submission form