Flute Series 4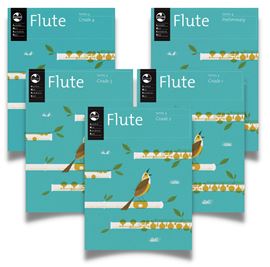 The Flute Series 4 grade books for Preliminary to Grade 4 provide teaching and learning opportunities for beginner flautists.
Repertoire in this latest publication has been researched and curated by the acclaimed Australian Flautist and educator Jocelyn Fazzone. It contains a broad and diverse range of repertoire styles, including pieces by Australian and female composers and arrangers, and an AMEB-commissioned composition designed to help students to engage with introductory techniques and skills for playing the flute.
The works featured in the Flute Series 4 grade books covering Preliminary to Grade 4 will be added to the current Flute syllabus.
Beyond this, there will be no alteration to the Manual lists in the current syllabus and no grade book series will be withdrawn as a result of Series 4 being added.
From 2023, users of the Flute syllabus will be able to source their repertoire from either Flute Series 2, Flute Series 3, Flute Series 4 or the works on the Manual Lists.
There will be no alteration to the technical work in the current syllabus, which is set out in Flute Technical work (2012) or to any other syllabus requirements.
The Series 4 grade books will be available to purchase on AMEB Connect from mid-December 2022.
Federal AMEB Flute Teachers' Workshop
An AMEB Flute Teachers' Workshop organised by the Federal AMEB office will be held online via Zoom from 2:00 pm to 3:00pm on Sunday 26 February 2023, during which you will hear Jocelyn Fazzone, AMEB Flute Series 4 Grade Book Consultant, discuss the new publications.
If you are interested in attending this event, please click here to register.