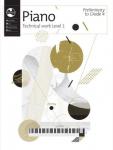 A revised Piano for Leisure syllabus is available for examination from 2022.
The Technical Work requirements have been reviewed. From 2022, Piano for Leisure Technical Work will be a sub-set of the Technical Work that appears in Piano Technical Work Level 1 (2018) and Piano Technical Work Level 2 (2018), currently being used for the Piano Comprehensive syllabus.
These publications can be purchased online through AMEB Connect.
Revised Piano for Leisure syllabus