2022 Diploma Presentation Ceremony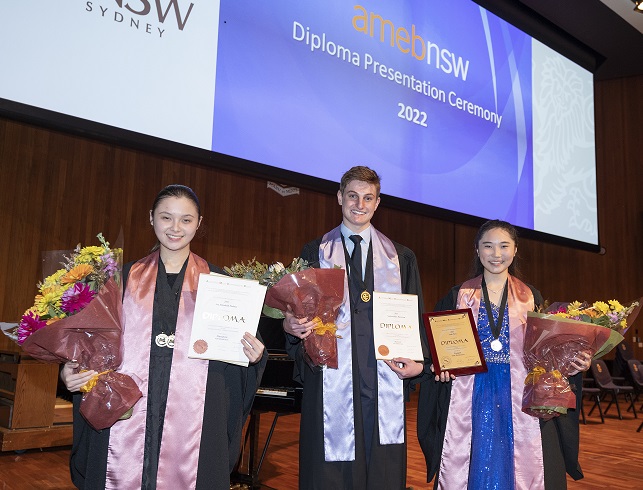 AMEB (NSW) held their annual Conferring of Diplomas Ceremony a little later than usual this year, on Sunday 19 June 2022 at UNSW, Kensington. It marked a welcome return to our usual celebration of Diploma achievement after two years of disruption due to COVID-19.
A seven-piece jazz group from Scots College ("Impulse!") provided us with a festive arrival for our diplomates and their families outside the recently renovated John Clancy Auditorium. In all, 182 diplomates achieved their Music or Speech & Drama diploma in 2021, and their achievements were celebrated at this event in front of their teachers, families and friends.  
CEO of NSW Education Standards Authority (NESA), Paul Martin, gave an inspirational address about the importance of music and drama in society. He congratulated diplomates on their achievement, acknowledging that for many people in the room, AMEB Diploma studies were tackled with the additional challenges of isolation and online tutoring, as well as juggling HSC study. "This has been a testimony to the level of perseverance and the spirit you embody. It was not just a normal year – you've done it harder".  
Performances from outstanding diplomates Nathan Marjoram (bassoon), Ava Pudney (piano) and Jade Park (trumpet) were enjoyed throughout the afternoon.